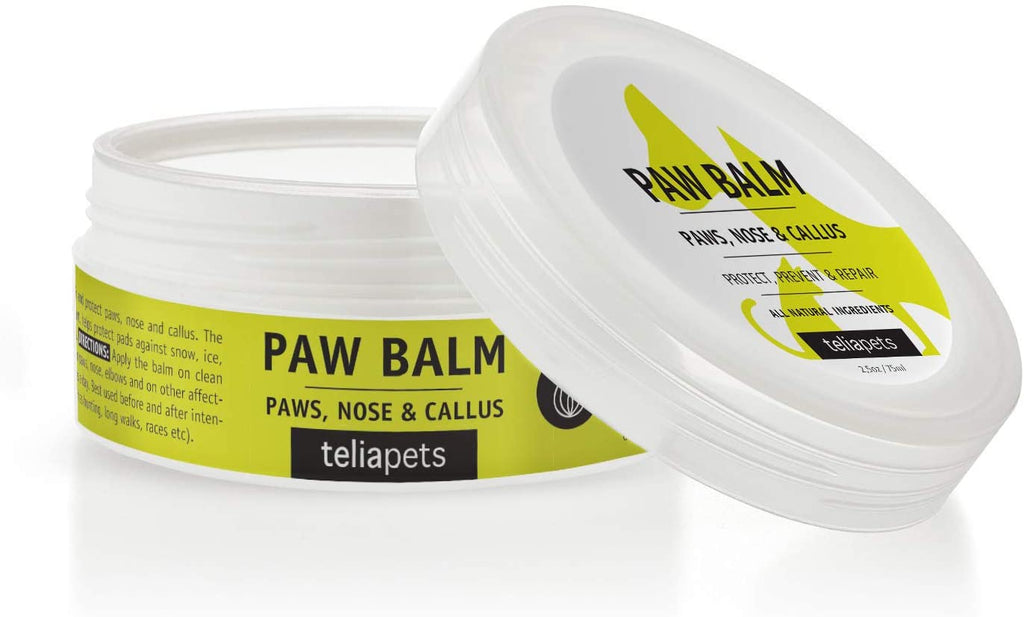 Teliapets Dog Paw Balm
In stock |

75ml
Not All Pet Creams Are Created Equal - Choose The Best For Your Dog!
Eases paws from painful hot or snowy streets.
Perfect for nose, snout, elbows, injured skin, calluses, and ears.
Natural, Organic, and Safe.
Edible, water-resistant product.
Easy to apply, non-greasy.

Shield Your Dog's Paws: Walking on frosty cold roads in winter, or on hot pavements during summer can hurt your dog's paws. Pollutants and other harsh ingredients found in the streets can also deteriorate the discomfort your pet feels. Protect your dog's paws effectively with this balm which is specially formulated to provide a nourishing protective wax barrier from all these harmful elements.

Organic All Natural & Safe Formula: Unlike other moisturizers that are jammed with artificial ingredients of questionable quality, this cream is made of 100% natural components, and totally safe to use for both dogs and people. The formula is completely free of fillers, preservatives, artificial colors, alcohol, stearates, or other mystery words. This way, your dog will not feel any burning feeling or discomfort but just a relieving, cooling effect!

Quick & Impressive Results: Thanks to its organic and safe synthesis, this cream can be applied directly to any dry area as often as necessary, not only to heal dryness but also to prevent further injuries. You can use it for your dog's itchy, dry cracked paws, for its flaky nose, over injured areas, on peeling, rough or callused feet, on elbows and snouts, and always for the most effective results on to spot!
Waterproof Formula Of Supreme Quality: This blend of natural extracts can have miraculous effects on your dog's flaky paws while at the same time it works as an effective anti-itch remedy, to keep your dog comfy, happy, and healthy! It is waterproof, so it can still offer its great properties even while your dog is walking in the rain. No harsh odor or greasy feel. Made only of natural ingredients, you have no reason to worry about your dogs licking the product.
---
---