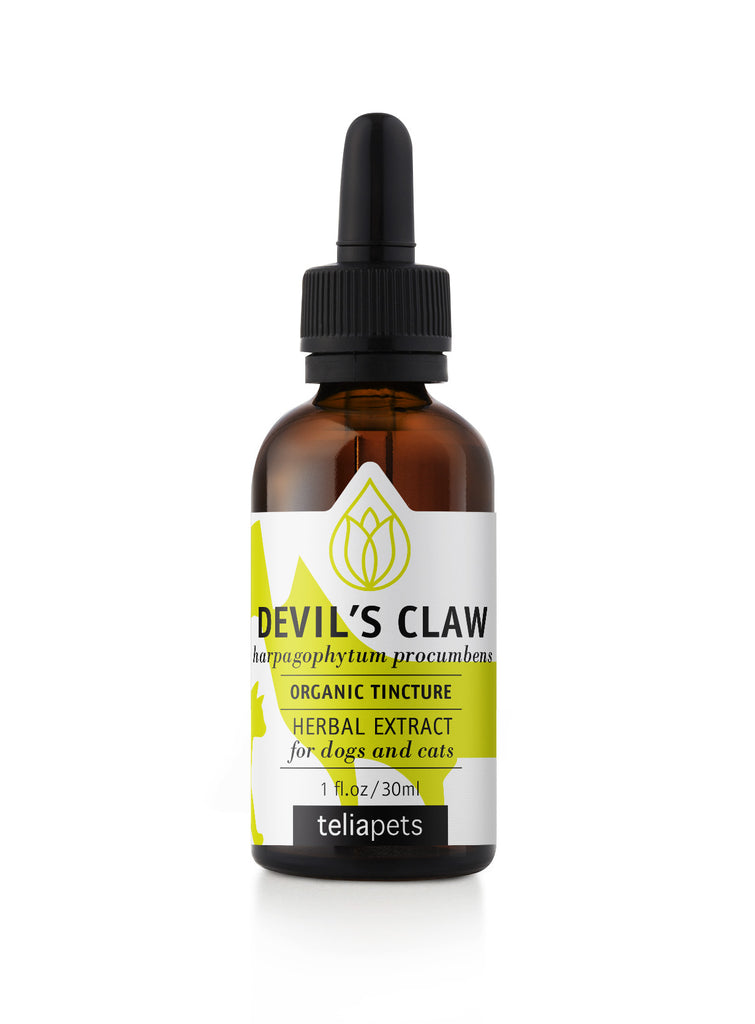 Teliapets Devil's Claw Organic Liquid Extract Tincture
In stock |

30ml
Non-GMO.
Free gluten, sugar, artificial colors, and preservatives.


Natural Distillation: Devil's Claw Tincture extracts from the dried root of Harpagophytum procumbens according to HAB method 4a, 55 (1:10 dried root/alcohol). The purest and most natural distillation of water and 55% alcohol makes our product which will help your pet improve its mobility and will relieve its muscle pain as an analgesic.
Certified Organic: Using only natural ingredients, our final product is Gluten-free, Non-GMO, with no sugar, yeast, mold, corn, salt, wheat, and soy and no artificial colors, dairy foods, preservatives, synthetic pesticides, or fertilizers. It is a rapidly absorbed liquid extract and easily digestible for your pets.

Many Benefits: Teliapets Devil's Claw Tincture effectively increases dog's and cat's mobility and eliminates muscle pain with its analgesic and anti-inflammatory action. Help your pet leave behind all joint problems.
High Quality: Packed in an amber glass bottle with a pipette, our high-quality product and general product specifications for mother tinctures conformed to the guidelines of the international community. The most gentle and safe Devil's Claw Tincture on the market.
(Keep out of reach of children and animals / Store away from heat and light, in a cool and dark place)
---
---