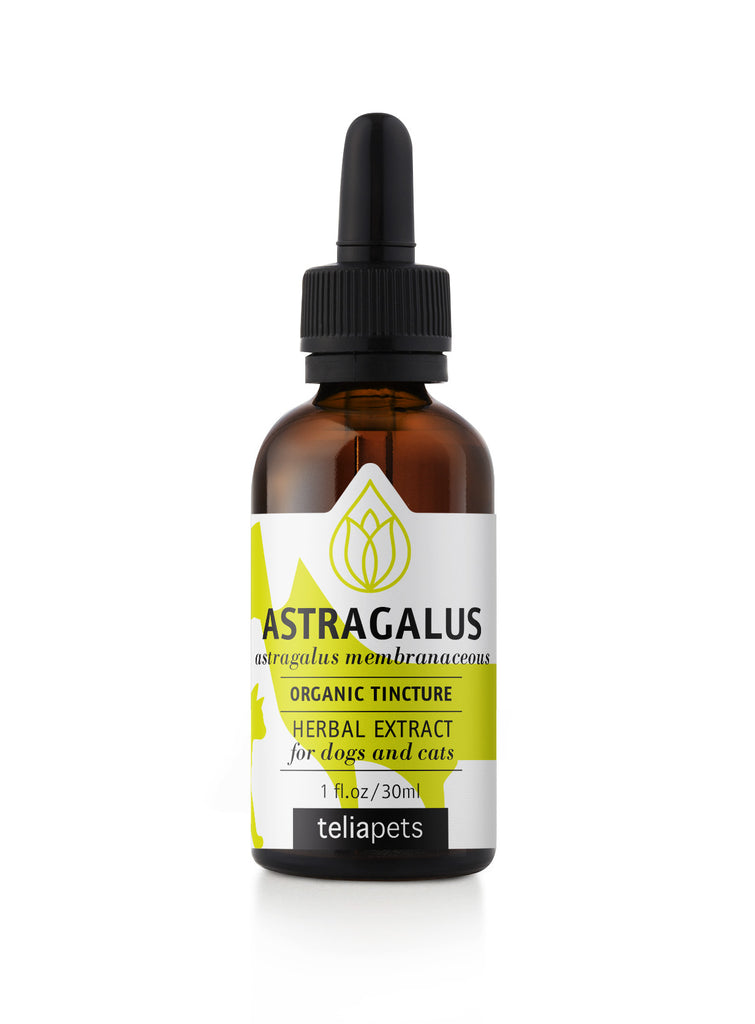 Teliapets Astragalus Organic Liquid Extract Tincture
In stock |

30ml
Non-GMO.
Free of gluten, sugar, artificial colors, and preservatives.

Natural Distillation: Astragalus Tincture extracts from the dried root of Astragalus membranaceus herb according to HAB method 4a (1:10 dried root/alcohol). The purest and most natural distillation of water and 62% alcohol makes our product which will boost your dog's and cat's immune system and general health.
Certified Organic: Using only natural ingredients, our final product is Gluten-free, Non-GMO, no sugar, yeast, mold, corn, salt, wheat, and soy, and no artificial colors, dairy foods, preservatives, synthetic pesticides, or fertilizers. It is a rapidly absorbed liquid extract and easily digestible for your pets.

Many Benefits: Teliapets Astragalus Tincture strengthens and tones pet's immune system, acts against cold, has anti-inflammatory action, helps against loss of appetite, is suitable for various stresses, weakness, and fatigue, and helps maintain normal kidney function. 
High Quality: Packed in an amber glass bottle with a pipette, our high-quality product and general product specifications for mother tinctures conformed to the guidelines of the international community. The most gentle and safe Astragalus Tincture on the market.
Order Risk-Free - Your Satisfaction Is Guaranteed: Join the community of hundreds of happy customers that have successfully used our products to help boost their immune system. In the unlikely case you are not satisfied with the results, Teliapets offers a cast-iron 30-Day Money Back Guarantee. For pet's general health- Order yours today!
(Keep out of reach of children and animals / Store away from heat and light, in a coll and dark place)
---
---